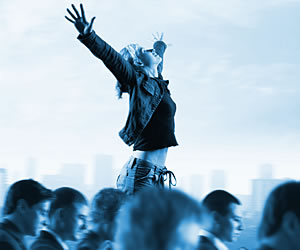 Employee Engagement
Attracting the right people to your organisation is key but retaining them is critical and can only be achieved through successful employee engagement; developing leaders who engage, develop, support and coach their people and developing a culture, values and behaviours that encourages accountability, pride, loyalty and retention.
We help you turn your employee survey results into practical solutions to create sustainable change. We help you improve communication; build relationships, increase accountability and gain buy in to the values and behaviours that create employee engagement.
Employee Engagement Scale:
On a scale of 1-10 how engaged are your employees?

Engaged Employees work with passion and feel an emotional connection to their company. They drive innovation and move the organisation forward. They are characterised as being loyal, committed, productive and deliver results.
Not Engaged Employees come to work and do what is asked of them but have little energy or passion for their work. They feel no meaningful attachment to their job or company.
Actively Disengaged Employees aren't just unhappy at work; they actively show their unhappiness. These employees demonstrate negative and uncooperative behaviours and attitude.
Our programmes are designed for organisations who want to develop and gain buy in to a strategy of employee engagement.
We provide:
Research & Analysis
Employee Engagement Strategy Development
Employee Engagement Programmes
Leadership Coaching
Progress Reviews and Measurement of Results
The Change Process:
We deliver a process to support employee engagement. It is not a quick fix or a one-off motivational event; it is a process of continuous change and improvement. It impacts upon hearts and minds, motivating people to want to change and implementing new ways of working to embed change.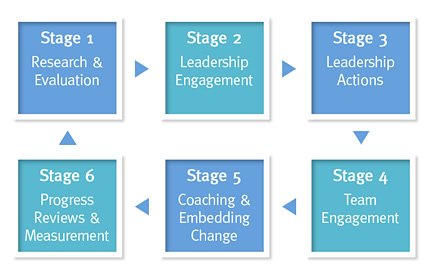 Stage 1 – Research & Evaluation
This consists of analysis of available research and surveys – in most cases little further research is needed other than verifying conclusions and qualitative data if not already available.
Stage 2 – Leadership Engagement
Leadership Workshops are held to share findings from the research and agree and gain commitment to the way forward. The key drivers of engagement are often around 'how' leaders lead. Leadership coaching and skills development will help leaders to have the confidence and competence to lead in a different way.
Stage 3 – Leadership Actions
By making immediate positive changes the leaders illustrate their commitment to change. Change across a whole organisation can take time however the initial steps take seconds, and immediately signal positive change in action, acting as a catalyst for further change.
Stage 4 – Team Engagement
The Team Workshops consist of sharing findings from the research and agreeing and gaining commitment to the way forward. Letting people know that they have been listened to, that there will be change and what their part is in that change. At this stage there should have been visible changes from Stage 3, so there will already be credibility.
Stage 5 – Coaching & Embedding Change
Developing the process to embed new behaviours and change. Unless there is a system of on-going coaching and development, new behaviours are likely to be dropped and old ways take over once again.
Stage 6 – Progress Reviews & Measurement
At 3-6 months intervals we review progress and measure change - supporting you to celebrate success and continue to improve.
"A big "thank you" to People Results for helping run what was a milestone event for our planning team. Exploring in detail how each of us tick - and importantly what makes others tick - has not only enabled us break new ground in our relationships with the asset teams, but also helped us get on even more effectively with each other. The feedback from both customers and stakeholders alike has been hugely encouraging and I'm extremely proud of the way our staff are now able to conduct themselves, specifically in business, planning and decision making forums. Wholly inspiring!"
Bill Sutherland
Head of Production Integrated Activity Planning
Shell U.K. Limited
Read our Employee Engagement Article:
http://insights.com/files/employee-engagement---a-culture-change.pdf
Please contact us for more information on employee engagement.