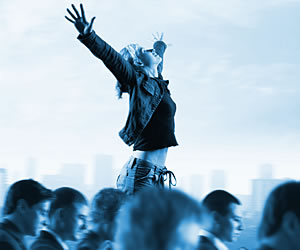 Management Training
Our Management Training programmes and coaching programmes help managers and leaders develop their skills, ability and confidence to competently lead their people and the business. We design management training to meet your needs, from team leadership programmes to management development training.
Whether you are a new or experienced manager or team leader we offer skills training and coaching to help you improve your effectiveness in the role. Our programmes will equip team leaders and managers with the leadership skills required to manage and motivate a team and increase individual and team performance.
Every organisation and every leader is different so we offer flexibility in how we deliver our programmes. We will create a bespoke management development programme or team leadership training course for you, whether it is a selection of management modules, an intensive training event over a series of days or a long-term development programme.
Management Skills Training: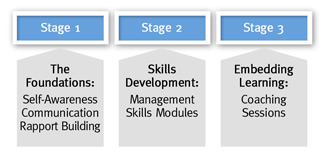 We deliver a 3 Stage Approach to management development and team leadership training commencing with a foundation stage centred on self-awareness, communication skills and rapport building, followed by bespoke management skills modules and individual coaching sessions. Our training is thorough and highly motivational and we provide practical tools, skills and coaching to embed learning.
Stage 1 – The Foundations
The Management Development Programme is built on the foundations of Self Awareness, Communication Skills and Rapport Building. During this stage managers gain a detailed understanding of their natural strengths and weaknesses, their management style, decision-making style, communication style and their personal impact.
Delegates leave this stage with dramatically increased self-awareness, leadership awareness, awareness of the impact they have on others and improved communication skills.
Stage 2 – Management Skills Modules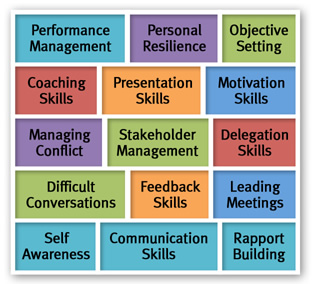 We provide bespoke modules to build on the foundations, developing core skills and behaviours in management practices such as Personal Resilience and Managing Conflict; we look in depth at team leadership focussing on Objective Setting, Motivation Skills, Delegation Skills, Performance Management and Coaching Skills and we focus on communication skills including Leading Meetings, Stakeholder Management, Feedback, Difficult Conversations and Presentation Skills.
Stage 3 – Coaching Sessions
During each module we provide feedback and coaching to develop and embed learning. We also recommend follow on coaching to develop and sustain learning.
Emotional Intelligence at Work: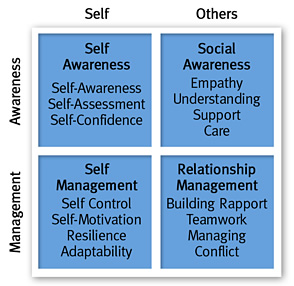 We provide a holistic approach to leadership training and management development by combining management skills training with emotional intelligence.
We believe that to be effective as a leader it takes more than just skills, it takes self-awareness, empathy, rapport building, self-motivation and emotional resilience.
Please contact us for more information on management training.
"The simple reason for us using People Results is their ability to truly understand our business needs and collaborate with us on delivering solutions that result in significant and sustainable improvement."
Mark Day
Director of Customer Services
Simplyhealth